Knit Factory
Coco Triangle Scarf Ochre/Tobacco
Rugged knitted shawl in triangle shape - Very spacious - With striking leather detail and unique pin accessoire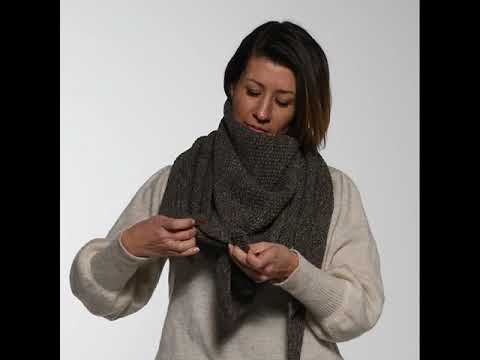 The Knit Factory Coco Woolen Shawl in the colour Ochre/Tobacco is more than just a winter accessory. This luxurious wool shawl showcases a sophisticated knitted design complemented by a unique fantasy stitch. Its versatile triangular design means it can double as a winter scarf, making it perfect for those chilly days. Ideal for those in search of a cosy triangular scarf, a chic shawl, or even a stylish poncho for winter, this oversized scarf seamlessly complements any outfit.
Elevate your winter ensemble with the Coco Shawl. Beyond its aesthetic appeal, it promises warmth and comfort. This scarf proudly sports the signature rugged leather Knit Factory label, and its charm is further enhanced by a distinctive kilt pin adorned with premium accessories—a true fashion statement! And variety? This shawl is available not just in this hue but in a palette of trendy colours. Find your perfect shade and tackle winter with flair.
Top Pick from Knit Factory: The Coco Shawl
The Coco Shawl's popularity among Knit Factory aficionados is undeniable. Representing the pinnacle of craftsmanship and design, this accessory epitomises the brand's unique ethos. Knit Factory, a brand deeply rooted in Dutch heritage, is celebrated for its authentic knits, each piece meticulously crafted in one of the Netherlands' last-standing knitting factories.
A noteworthy mention is that the Coco shawl's production is localised to a single quaint village in the Netherlands. Such localised manufacturing not only preserves age-old crafting traditions but is also a nod to sustainable practices, minimising the ecological footprint. Choosing the Coco Shawl is a nod to style, comfort, and a commitment to sustainability and eco-conscious living.
Washing advice
30 °C machine wash, permanent press
Do not bleach
Do not dry clean
Do not iron
Dry flat
Article number
KF-120.060.087.50
€

42,95
Included 21% VAT
€

35,50

excl. VAT
Advice selling price

€

42,95
Colors
Excellent to combine with..
Our own
Knit Factory
Coco Triangle Scarf Ochre/Tobacco combines perfectly with the following products
Coco Beanie Ochre/Tobacco
Article number
KF-120.070.087.50
Knit Factory
€

24,95
Included 21% VAT
€

20,62

excl. VAT
Cleo Gloves Ochre
Article number
KF-146.075.017.50
Knit Factory
€

21,95
Included 21% VAT
€

18,14

excl. VAT