Knit Factory
Coco Triangle Scarf Jeans/Navy
Rugged knitted shawl in triangle shape - Very spacious - With striking leather detail and unique pin accessoire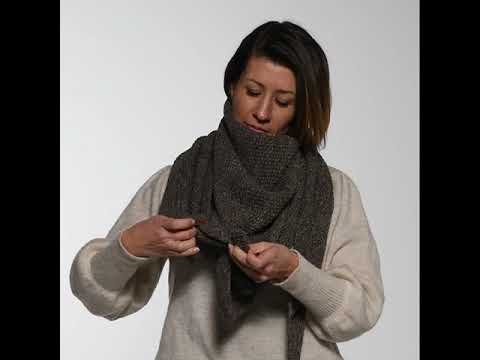 The
Knit Factory Coco Triangle Scarf
in the colour
Jeans/Navy
is a lovely, luxurious, knitted shawl with a beautiful fantasy stitch. The practical triangle shape makes it possible to wear this oversized shawl in several ways. With this large, knitted triangle shawl your outfit will be complete. The Coco Shawl is fitted with the signature cool leather Knit Factory label and a brooch with luxurious accessories. In addition to jeans/navy, this shawl is available in various other fashionable colours.
Washing advice
Do not bleach
Do not dry clean
Do not iron
Dry flat
Hand wash
Article number
KF-120.060.084.50
€

42,95
Included 21% VAT
€

35,50

excl. VAT
Advice selling price

€

42,95
Colors
Excellent to combine with..
Our own
Knit Factory
Coco Triangle Scarf Jeans/Navy combines perfectly with the following products
Coco Beanie Jeans/Navy
Article number
KF-120.070.084.50
Knit Factory
€

24,95
Included 21% VAT
€

20,62

excl. VAT
Cleo Gloves Jeans
Article number
KF-146.075.013.50
Knit Factory
€

21,95
Included 21% VAT
€

18,14

excl. VAT
Coco Infinity Scarf Jeans/Navy
Article number
KF-120.066.084.50
Knit Factory
€

32,95
Included 21% VAT
€

27,23

excl. VAT
Brooch Jeans/Navy
Article number
KF-998.120.084.50
Knit Factory
€

5,95
Included 21% VAT
€

4,92

excl. VAT
Cleo Gloves Navy
Article number
KF-146.075.026.50
Knit Factory
€

21,95
Included 21% VAT
€

18,14

excl. VAT